See pictures of each grade below our price list.
Artist Grade-plus: Fine, even-grain, 14-25 grains per inch or uniform gradation from fine to wide, no color. Inquire for higher grades.
D: $200 and up
OO, OM, OOO: $125-$250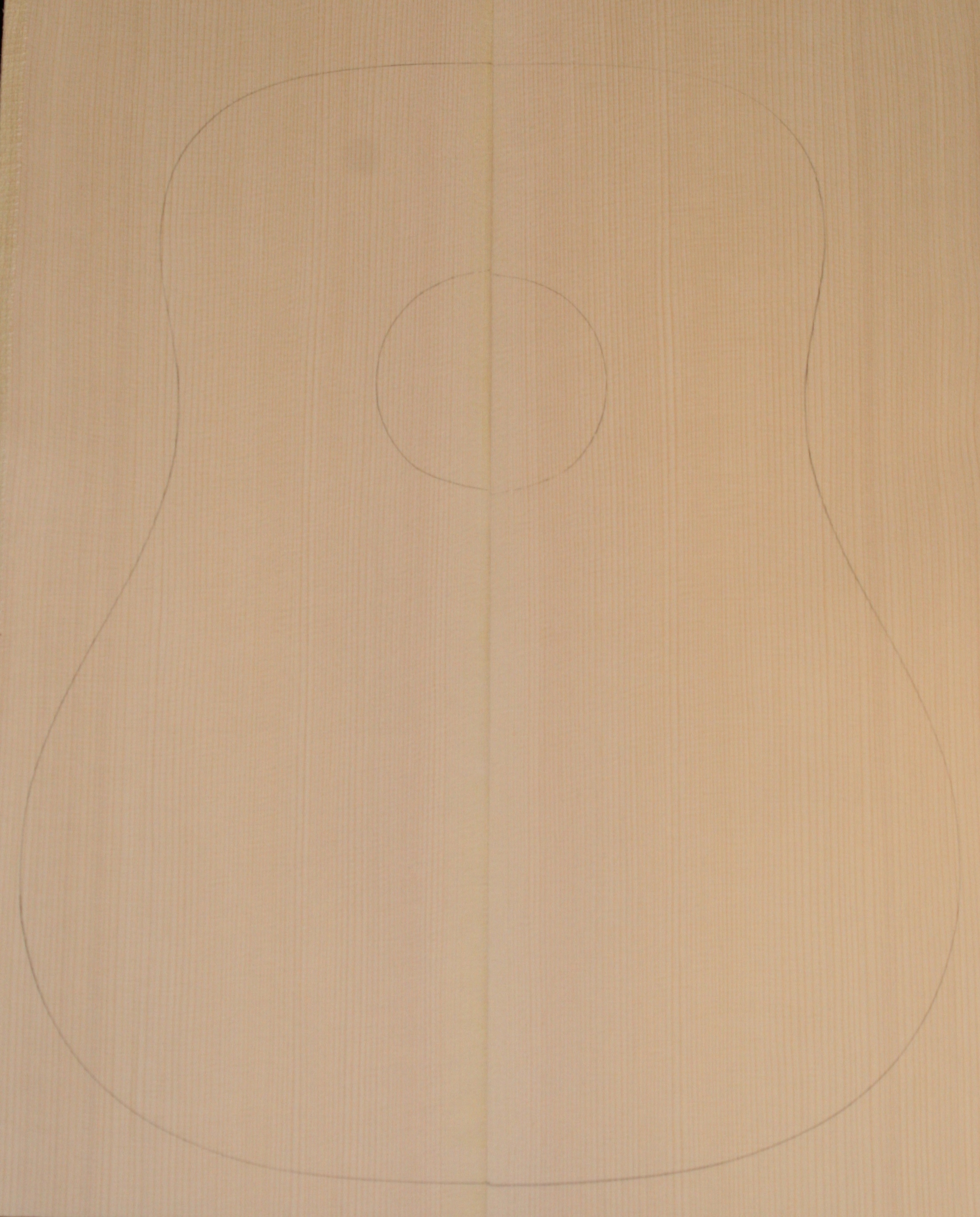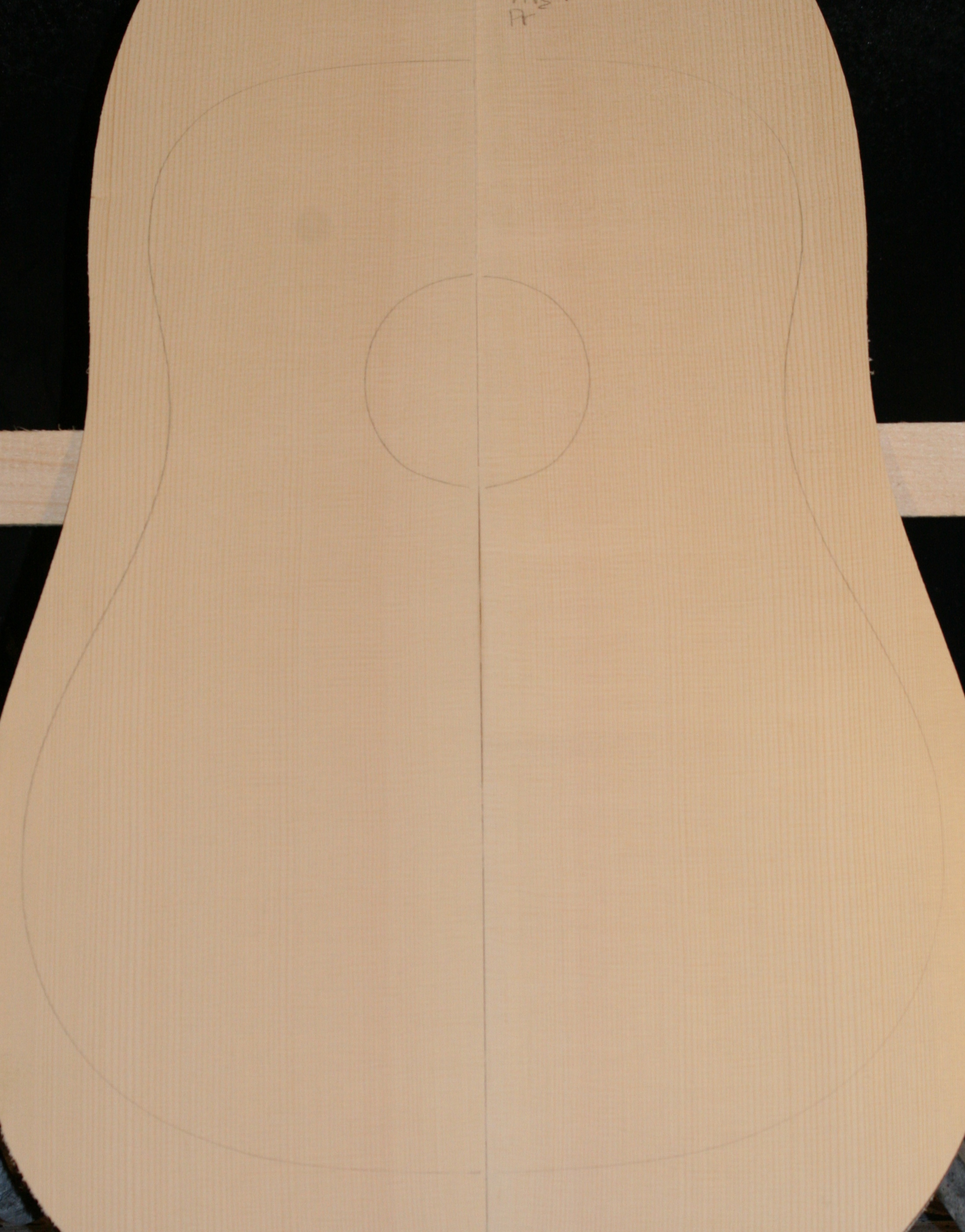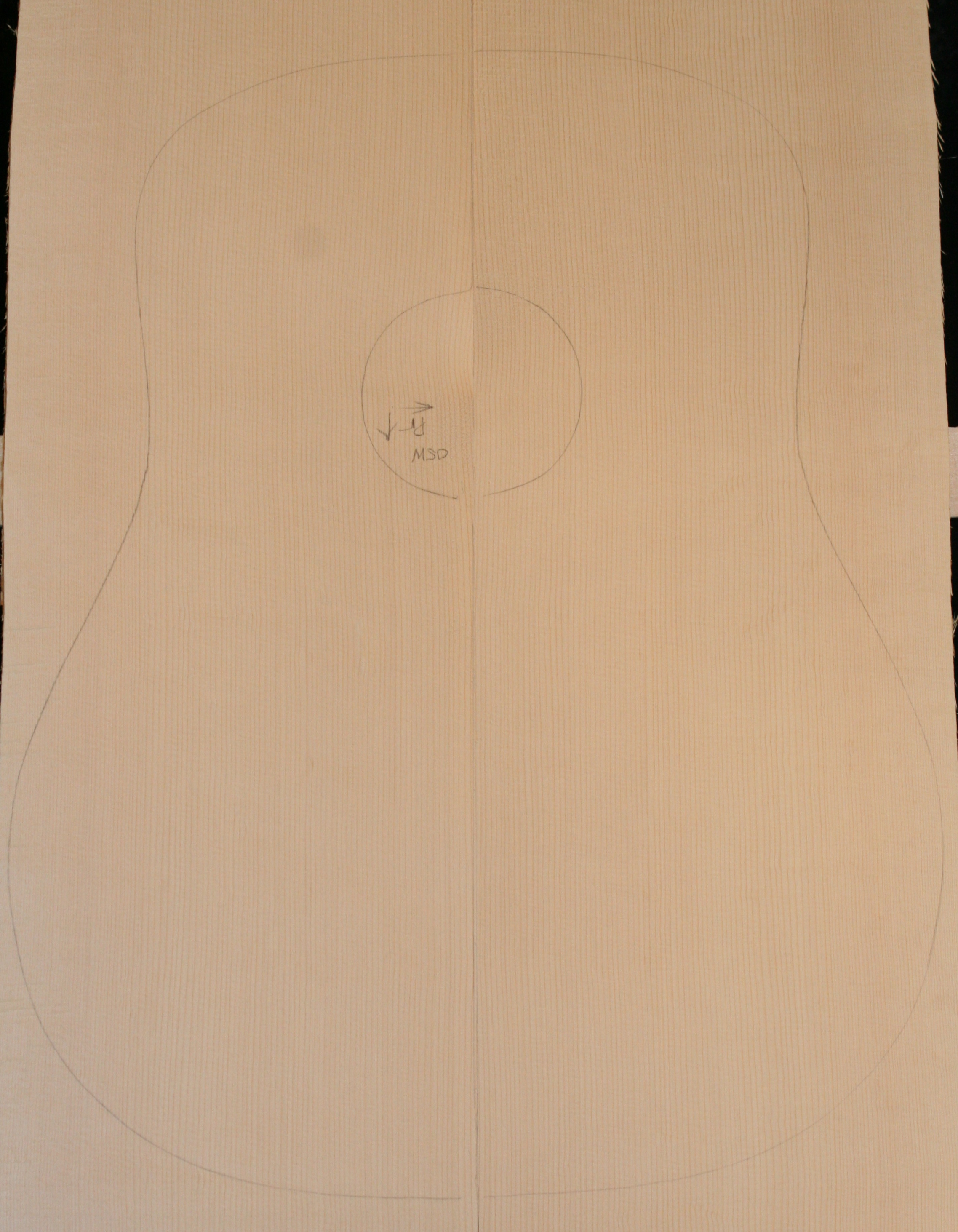 Artist Grade: Even but more open-grain, 10-14 grains per inch, may have very slight color or minor amount of dark grain.
D: $125-$200
OO, OM, OOO: $80-$120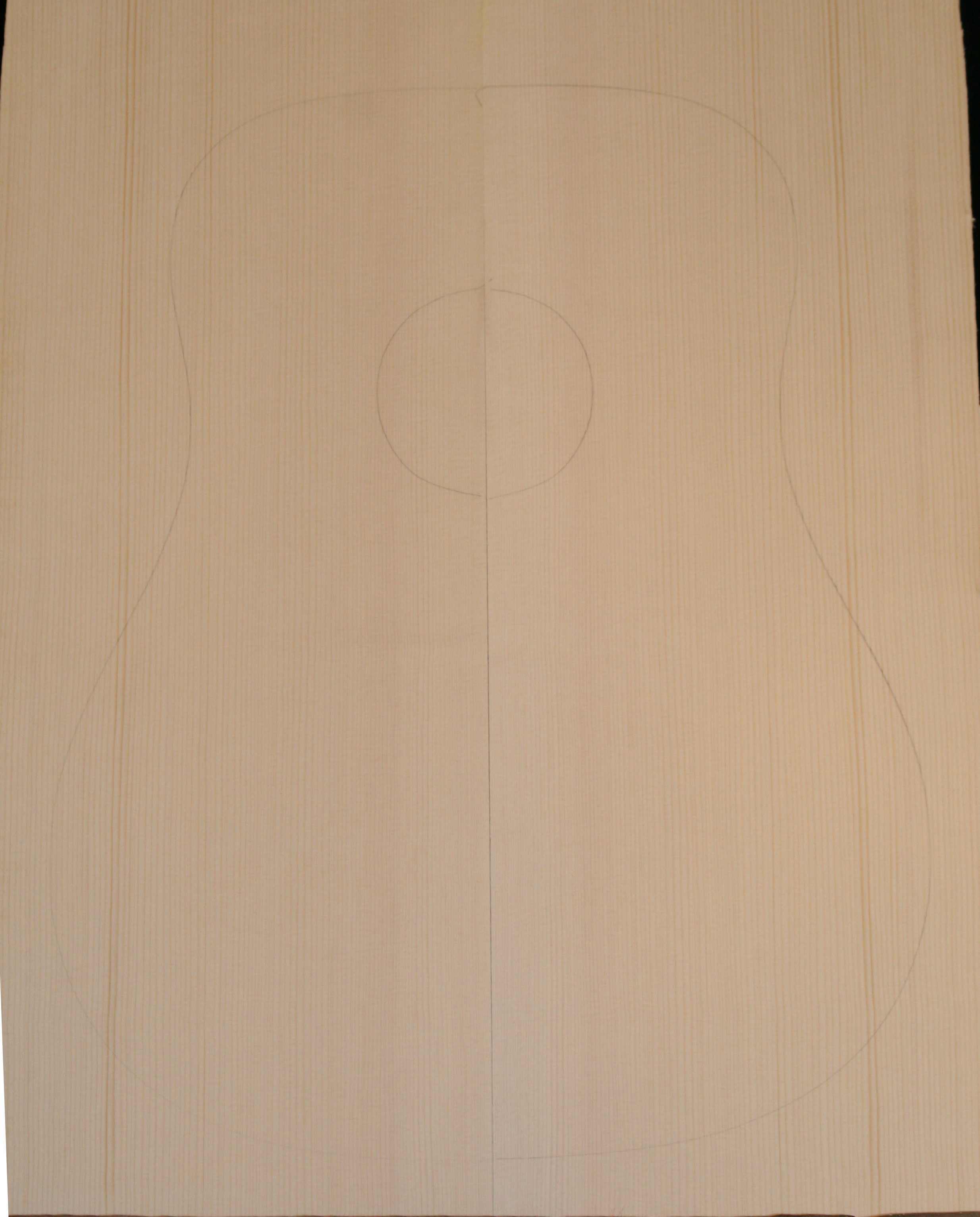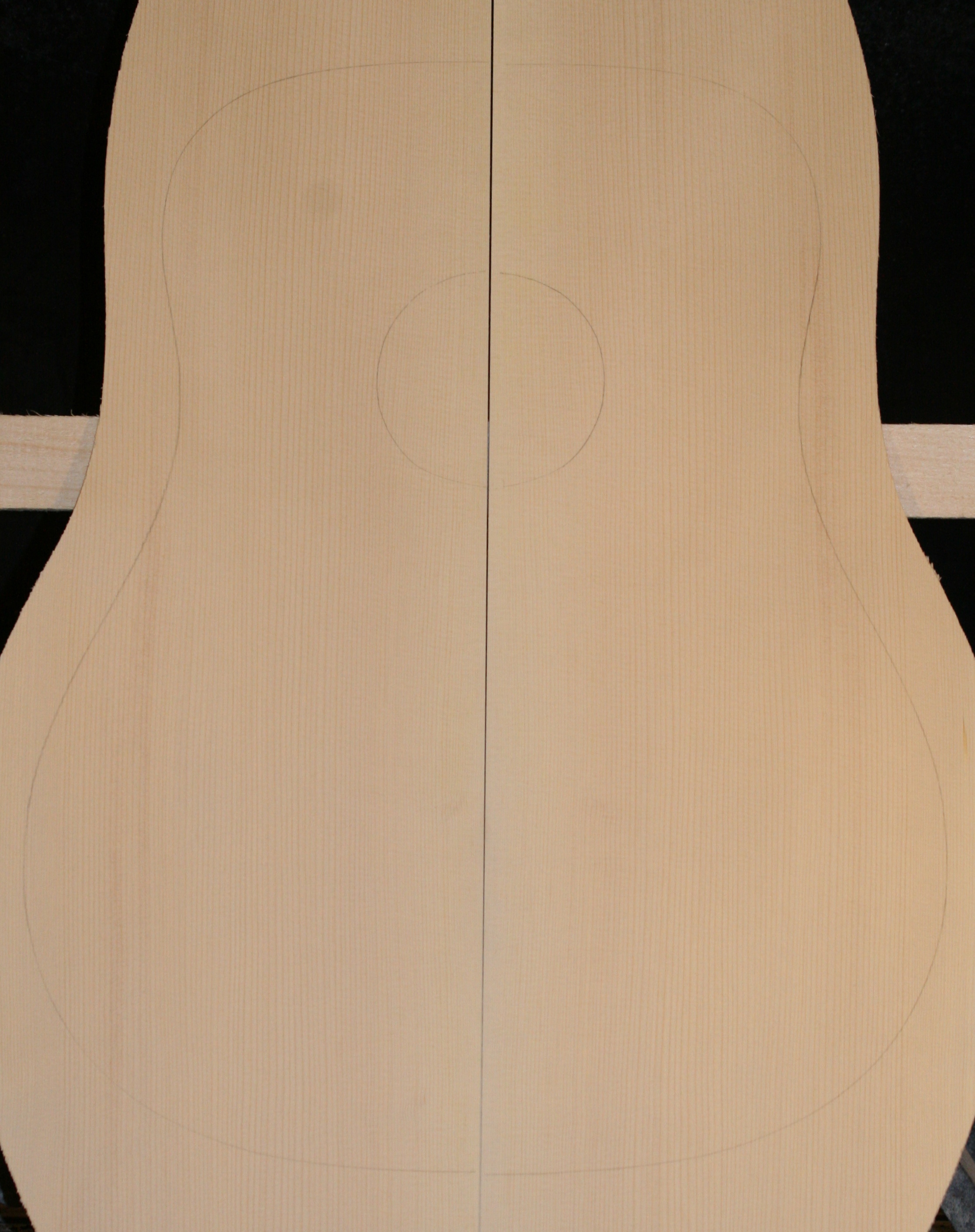 Excellent Grade: Range from open-grain white tops to fine-grain but with significant color streaking. Some with nice grain counts but areas of darker grain. Some with defects such as pin knots or sap pockets which will miss the pattern with careful attention, or have minor defects showing on only one side, or will be covered by fingerboard or pickguard. Tops with one-side defects or near-misses in this price range are otherwise equal to $125-$300 tops.
D: $65-$100
OO, OM, OOO: $65-$90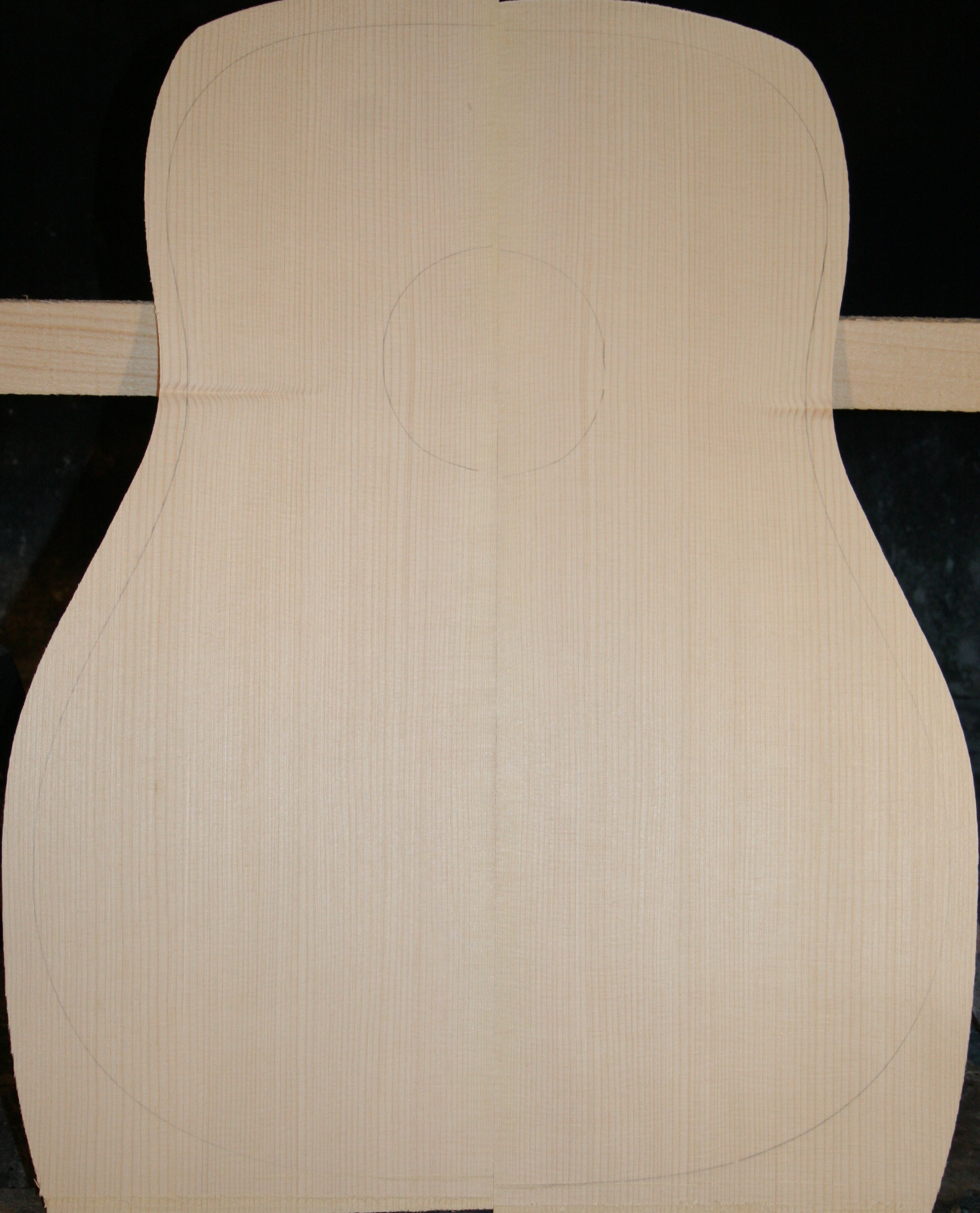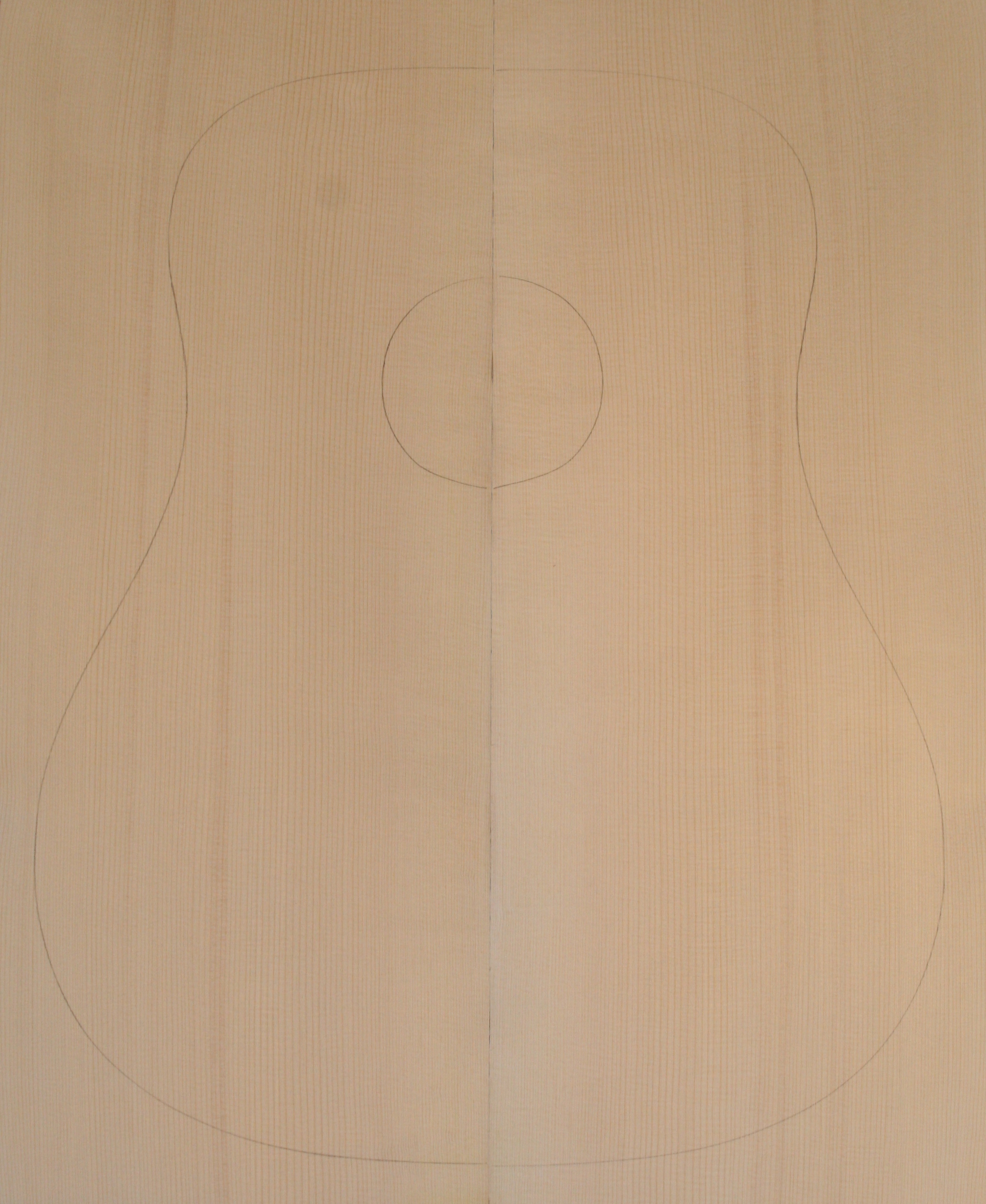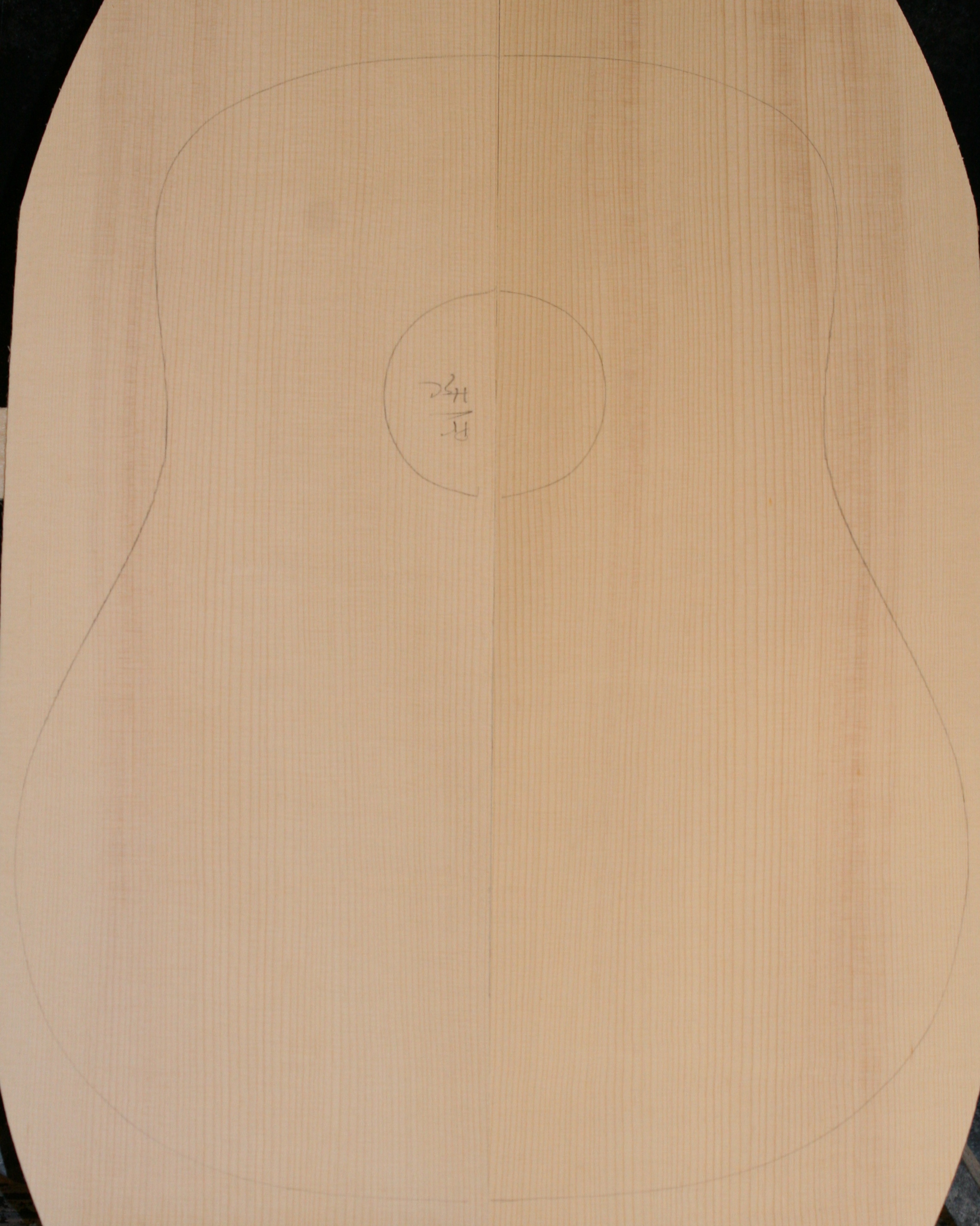 Common Grade: Coarser appearance due to wider or darker grain, uneven grain counts or color streaking. Quartering usually good but may not be perfect. Acoustically the equal of higher grades.
All Sizes: $65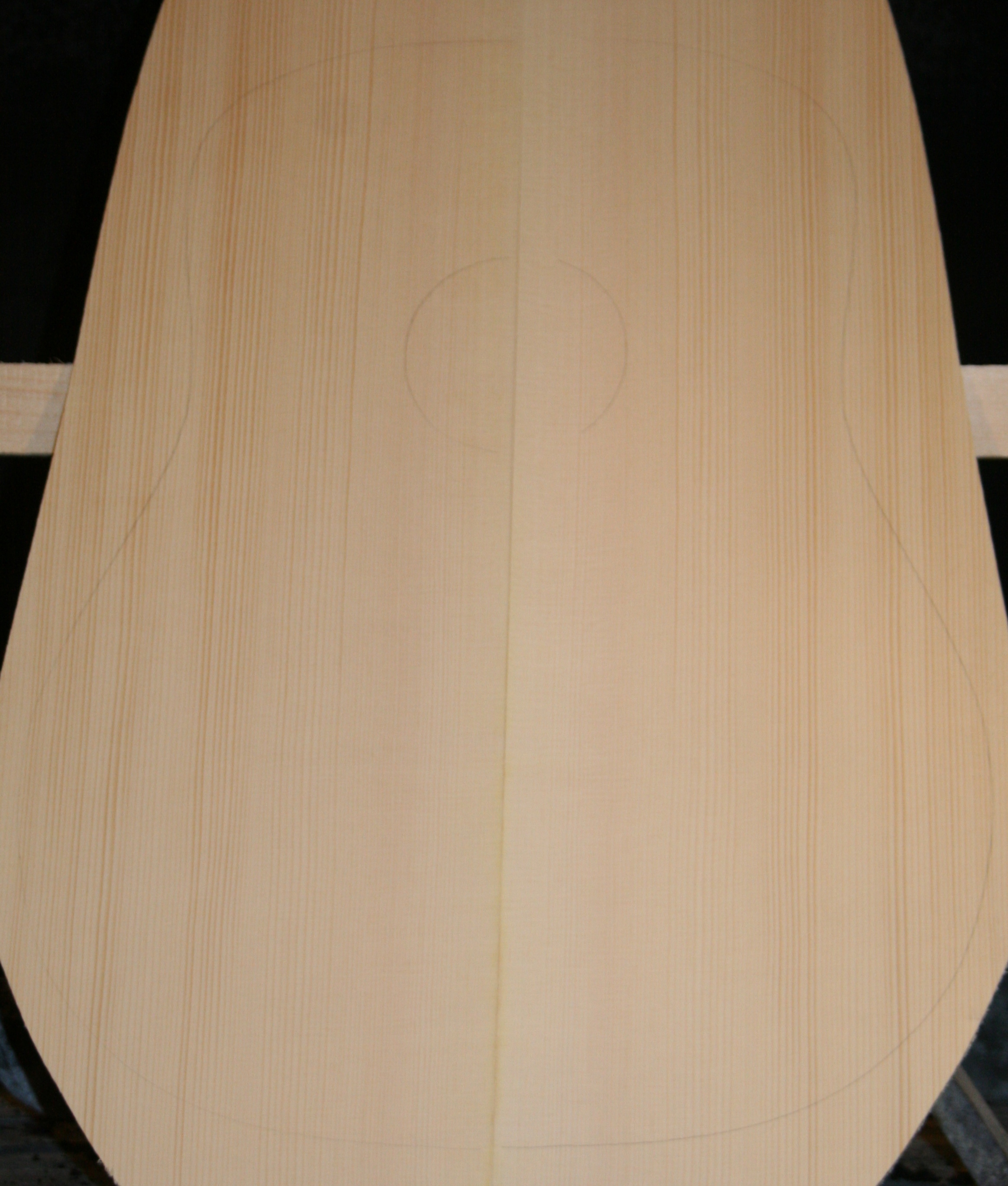 4-Piece Tops: 6"-6 ½" x 28"-36" bookmatched soundboards. Use extra length for "wings" on lower bouts.
All Sizes: $20-$100
Guitar Bracewood (Random widths and lengths):

$10-$20/lb.: fine grain, minimal color, milled surfaces,
little or no waste.
Brace @ $5/Lb with soundboard orders.
- Estimate 2 Lbs Brace per D-size guitar.
FROM BIPLANES TO MARTIN GUITARS: Adirondack, or Red Spruce, is an extremely strong, stiff wood with the highest cross-sectional strength and across-the-grain stiffness of all the spruces. In addition, it consistently rates at the top in strength-to-weight ratio. Unlike Sitka, it seldom shows bearclaw figure and the medullar rays are more muted, as in Englemann, European or White Spruce. Red spruce was preferred by wood-frame airplane builders early in the 20th Century and also found extensive use for piano soundboards even earlier. Instrument makers such as Gibson and Martin found it made superb tonewood for flattop guitars, archtop guitars, and mandolins.
The legendary pre-WWII Martin guitars had tops and bracing of Red Spruce as did the famous Lloyd Loar F-5 mandolin. Today, many makers are continuing the red spruce tradition and customer awareness is growing.
GUITAR MAKING THEN AND NOW: Gibson and Martin were running production shops and functionality was placed ahead of appearance except on the very top models. In today's market, guitar makers must pay a tremendous amount of attention to details of workmanship and appearance as well as tone and playability. Many of the tops in vintage guitars would not pass muster for today's makers. This makes red spruce cutting and selection all the more challenging. We have access to many pre-war Martin guitars. Though they sound great, the D-18s in particular often used very coarse looking soundboards. The D-28s tended to have finer looking tops but were not consistent. Only the D-42 and D-45 models seem to uniformly have had very fine looking tops. The one thing that is consistent is the powerful yet balanced and mellow sound of these instruments. From our observations and customer feedback, we believe our Adirondack tops equal or surpass any that have been produced in modern times and probably at any time.
C.F. Martin began switching to Sitka in the mid-1940s. Better availability and consistency in the appearance of Sitka were major factors. However, many people believe Adirondack Spruce to be tonally superior. The sound of the old instruments constructed of Adirondack, as well as the results achieved by present-day makers, tend to support that belief.
ADIRONDACK SPRUCE OR RED SPRUCE?: Adirondack Spruce is red spruce (picea rubens), but not all red spruce could be properly called Adirondack. In over twenty years of prospectiong for log sources, we have determined that red spruce from the higher elevations of the northern Appalachians consistently has the stiffness and resonance our customers expect. With the exception of two small areas, our experience with red spruce from near the northern limit of its range in Canada and from the coastal areas has been disappointing. Stiffness was not up to our standards for Adirondack Spruce nor were these soundboards as acoustically live. Despite the nice appearance, we could not in good conscience market this spruce as Adirondack/Red Spuce. Much of the spruce from these areas is either White Spruce or a Red/Black/White hybrid. This includes much of the forest in western Maine and areas to the north and west. We take great care in our harvest and log selection to procure only red spruce from pure stands in mixed hardwood forest. In our estimation, Adirondack-grade red spruce is found almost exclusively within the U.S. border.
PRICING: Why are they so costly? While a common enough tree, few red spruces are of guitar-top size or quality. The trees are too small to cut into thick quartered blocks like Sitka or Englemann. The growth ring curvature is too great to allow many slices made before a wedge cut is required in order to get back on quarter. This makes the yield per log low and the amount of labor high. Open grain counts, color, dark grain, runout, and other problems make much of even the better logs unusable.
OUR GRADING SYSTEM: Red spruce is better known for its tonal qualities than for its appearance. It rarely approaches the nicest Sitka for fine, even grain. This makes grading more subjective. A particular characteristic might suit one maker, but not another. Let us know which qualities are most important to you and we will try to select accordingly. Our $125-$300 tops compare with those in pre-war Martin D-28s, the $300-$400 tops with the D-45 model.
COLOR IN RED SPRUCE: Nominally this is a very white wood which makes any color streaks show up all the more. These consist of diffuse reddish or brownish areas. Often the pattern will be somewhat different on each half of the bookmatch. Careful positioning of the guitar pattern may minimize visibility by placing colored areas under the fingerboard, pickguard, bridge, or soundhole. Exposure to direct sunlight will darken Red Spruce to a golden color, minimizing the visibility of streaking.
JOINING RED SPRUCE TOPS: We draw a guitar pattern on each high-grade top based on a careful examination of all four surfaces of each set. We take into account grain runout, quartering accuracy, grain count gradation, and avoidance of knots, grain bends, color streaks, pitch pockets, and other problems. Though some tops may be joined along either edge, many cannot. The luthier makes the final determination, of course, but we strongly advise taking note of our pattern orientation before sanding. Sitka and Englemann are much larger trees and yield tops more free of problems, so pattern positioning is usually not critical.